For many of us, a 401(k) is one of the most accessible and easily managed options when it comes to our retirement investment strategy. This accessibility is largely a function of the fact that the 401(k) remains one of the most popular retirement investment options offered by employers. But in addition its convenience, the 401(k) provides the average investor with two important advantages. The primary benefit of this investment option is that all contributions and earnings to your 401(k) are tax deferred. As opposed to increasingly popular options like the Roth IRA, you only pay taxes on contributions and earnings when the money is withdrawn. An equally important feature is that many employers provide matching (ie, FREE!) contributions to your 401(k) account which can range from 0% to 100% of your contributions. These tax deferred contributions/earnings and employer contribution make the 401(k) account a very attractive retirement savings option that most of us would do well to take advantage of.
Lets take a quick look at some of the important features to consider when contributing to and managing a 401(k) retirement account. While beyond the scope of this particular post, individual circumstances (age, investment choices, retirement goals, and the diversity of your other current/future investment strategies) will dictate how aggressively you choose to fund your 401(k) account.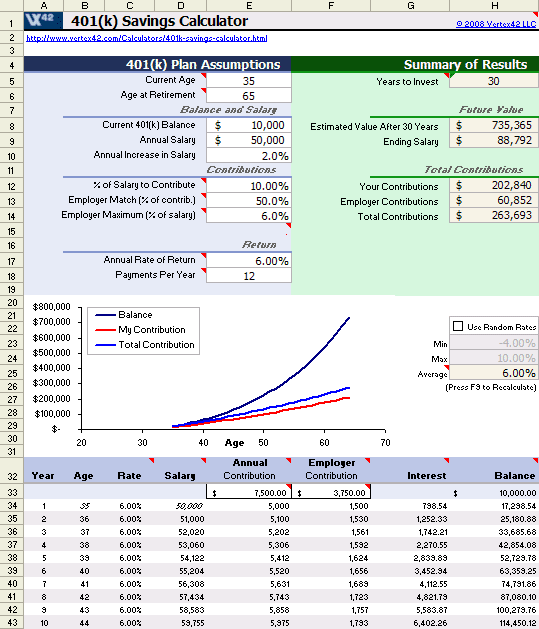 *Download a free 401(k) Calculator for Excel
Annual salary
This is your annual salary from your employer before taxes and other benefit deductions. Since your contribution and company match are based on the salary paid to you by your employer, do not include any income you may receive from sources other than your employer.
Percent to contribute
This is the percentage of your annual salary you contribute to your 401(k) plan each year. Most employers permit employees to contribute up to 15 percent of their salary to a 401(k).
Annual contribution limits
Your total contribution for one year is based on your annual salary times the percent you contribute. However, your annual contribution is also subject to certain maximum total contributions per year. The annual maximum for 2010 remains at $16,500. Starting at age 50 or older, a "catch-up" provision allows you to contribute an additional $5,500 into your 401(k) account. It is also important to note that employer contributions do not affect an employee's maximum annual contribution limit.
It is important to note that some employees are subject to another form of contribution limitations. Employees classified as "Highly Compensated" may be subject to contribution limits based on their employer's overall 401(k) participation. If you expect your salary to be $110,000 or more in 2010 or was $110,000 or more in 2009, you may need to contact your employer to see if these additional contribution limits apply to you.
Current age
Your current age
Age of retirement
Age you wish to retire. This calculator assumes that the year you retire, you do not make any contributions to your 401(k). So if you retire at age 65, your last contribution happened when you were actually 64.
Current 401(k) balance
The starting balance or current amount you have invested or saved in your 401(k).
Annual rate of return
The annual rate of return for your 401(k) account. This calculator assumes that your return is compounded annually and your deposits are made monthly. The actual rate of return is largely dependent on the type of investments you select. For example, from December 1999 to December 2009, the average annual compounded rate of return for the S&P 500 was -0.6%, including reinvestment of dividends. From January 1970 to December 2009, the average annual compounded rate of return for the S&P 500, including reinvestment of dividends, was approximately 10.1% (source: www.standardandpoors.com). Since 1970, the highest 12-month return was 61% (June 1982 through June 1983). The lowest 12-month return was -43% (March 2008 to March 2009). Savings accounts at a bank may pay as little as 1% or less but carry significantly lower risk of loss of principal balances.
It is important to remember that future rates of return can't be predicted with certainty and that investments that pay higher rates of return are generally subject to higher risk and volatility. The actual rate of return on investments can vary widely over time, especially for long-term investments. This includes the potential loss of principal on your investment. It is not possible to invest directly in an index and the compounded rate of return noted above does not reflect sales charges and other fees that funds and/or investment companies may charge.
Annual salary increase
The annual rate you expect your salary to increase. We assume that your salary will continue to increase at this rate until you retire.
Employer match
An employer match is in addition to your annual contributions. It is based on a percentage of your annual contributions. This range can be anywhere from 0% to 100%.
For example, let's assume the employer matches 50% of the employee's contributions up to 6% of their salary. The employee earns $100,000 per year and contributes 10%. The results would be:
* $10,000 from the employee
* $3,000 from the employer (which is 50% of $6,000 or 6% of the annual salary).
* Total: $13,000
Please read the definition for "Employer maximum" for a detailed description of maximum employer matching contributions. It is also important to note employer contributions do not affect the maximum amount allowed to be contributed by an employee.
Employer maximum
This is the maximum percent of your salary matched by your employer regardless of the amount you decide to contribute. For example, let's assume your employer has a 50% match, up to a maximum of 6% of your annual salary. If you have an annual salary of $25,000 and contribute 6%, your annual contribution is $1500. With a 50% match, your employer will add another $750 to your 401(k) account. If you increase your contribution to 10%, your annual contribution is $2500 per year. Your employer match, however, is limited to the first 6% of your salary and remains at $750.
*401(k) courtesy of Bloomberg
A final word
As with all investment options and strategies, individual investors need to take a proactive approach to managing their 401(k).  Too many people seem satisfied with a passive approach to managing their retirement goals and the 401(k) is no exception.  It is not enough to fill out your 401(k) paperwork when starting with a new employer and simply take a 'let it ride' approach to your initial contribution and portfolio suggestions.  I would strongly encourage 401(k) investors to regularly (every 6-12 months) review their 401(k) strategies within the context of their overall financial situation.  From a contribution perspective, you should absolutely take advantage of any employer matching contributions (ie, if your employer requires your contribution to be 3% of your salary before the company match kicks in, then 3% is the minimum you should be contributing to your 401k).  Depending on your age, risk tolerance, and the general health of the market and your household finances it may be appropriate to increase/decrease (never below any matching employer funds threshold) your personal contribution percentage and the investment mix (small cap, large cap, bonds, sector, U.S. vs international, etc) of your portfolio.
Lastly, I would encourage all 401(k) investors to discuss their goals and objectives with the financial institution managing your company's account; typically your company will have an advisor(s) that you are able to consult with free of charge to make sure that your investment options align with your retirement goals. Take advantage of this resource (call, ask questions, be sure you understand what you're investing in), be proactive in managing your retirement investments, and always keep in mind that nobody ought to have  as vested an interest in the success of your financial objectives as you do!